Move over Gigi and Kendall. Make way for 100-year-old Bo Gilbert. The silver-haired centenarian will be the first model of her age to grace the pages of British Vogue as part of an upcoming issue to celebrate the magazine's centennial.
Rocking designer duds (those glasses are Valentino!), Gilbert also posed for photos to run as ads for upscale British department store, Harvey Nichols.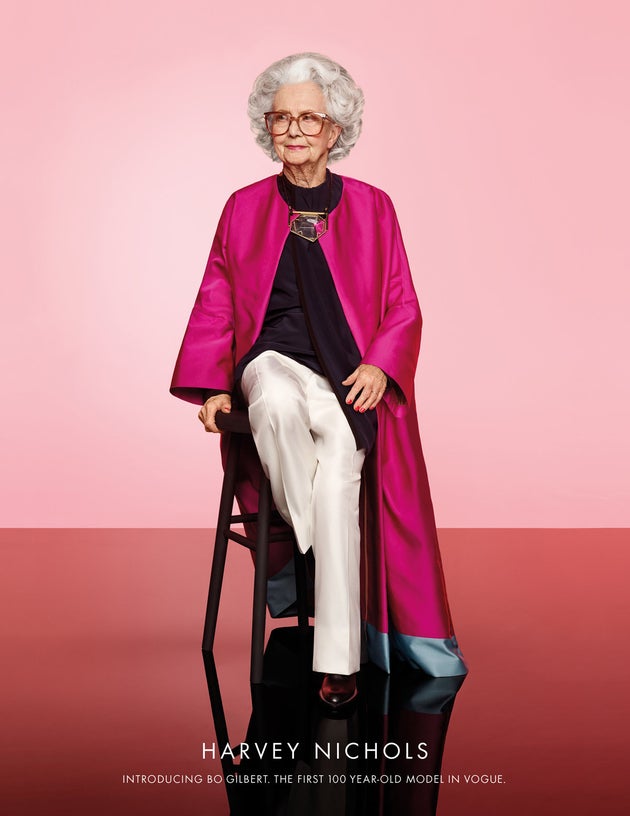 Gilbert, who was born in 1916, has lived through decades of evolving fashion trends.
"I love the different fashions. We were all for these hats in those days," Gilbert said in a behind-the-scenes video. "But now you never see anybody in a hat."
The 1950s were her favorite time, when trousers for women became more mainstream. And her favorite style icon? Audrey Hepburn, of course.
Gilbert said she's always made a point of dressing well daily and maintaining a certain "standard." But here's her best advice to all the fashionistas out there: "I dress to suit myself. I certainly don't dress up for boys!"
'Atta girl!
Harvey Nichols says she was chosen because she "epitomises timeless style."
"We're really proud to be involved in a project which proves the older generation can be fearlessly stylish too," a spokesman for Harvey Nichols' ad agency said. "Ageism is so last century."
Hear, hear.
Read more: http://www.huffingtonpost.com/2016/04/29/100-year-old-will-grace-the-pages-of-vogue-for-the-first-time_n_9806598.html