The Duchess of Cambridge's style is nothing short of iconic. Now, it has an iconic magazine cover to match. For the first time ever, she'll be the cover star of Vogue UK.
The June issue marks 100 years of British Vogue, which can only be described as the holy grail of fashion, and features a 10-page spread of the media phenomenon previously known as Kate Middleton. It's shot by British photographer Josh Olins and is the first fashion magazine shoot she's ever posed for.
Kate is pictured beautifully and casually in Norfolk, England, where she and her family (including the almost birthday girl Princess Charlotte!), live most of the time. Wearing a Burberry coat and blouse on the cover with a vintage hat, and a striped Petit Bateau t-shirt with minimal makeup in another, she looks natural, comfortable and downright gorgeous.
Oh, and did we mention, Kate is so down to earth that one of the pieces she wears is totally affordable? That Petit Bateau red breton striped t-shirt retails for £35, or around $51. For those of us outside of the UK, several similar styles are available on the brand's website.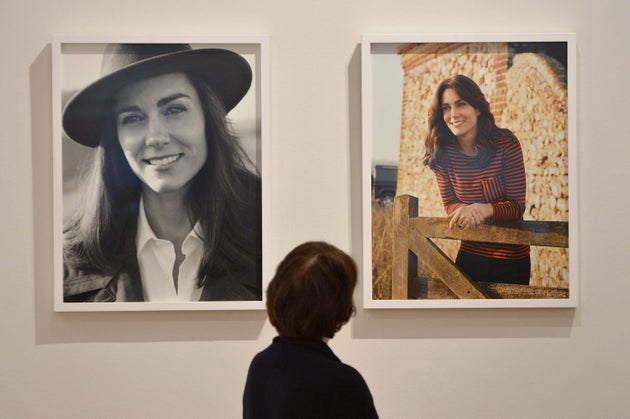 Those two images are on display at London's National Portrait Gallery, where the duchess is a patron. They are included as part of an exhibition on 100 years of British Vogue.
In gracing the cover, Kate follows in the footsteps of her husband's late mother, Princess Diana, who starred on the iconic magazine four times.
Kate was "delighted" to pose for Vogue UK, a "leading champion of British portraiture since 1916," tweeted Kensington Palace.
But there's a chance at least one member of the royal family is less than delighted about the whole thing. In 2011, when rumors were swirling that Kate was wanted for an American Vogue cover, E! reported that Queen Elizabeth II would be against the idea.
Still, it is British Vogue, and it is a huge year for both the magazine and the royal family as the Queen celebrates turning 90. And, maybe, just maybe, she has come around to the idea over the last five years.
Now, if you'll excuse us, we'll be figuring out a way to get our hands on a hard copy, which hits newsstands May 5.
Read more: http://www.huffingtonpost.com/2016/05/01/kate-middleton-vogue-cover_n_9817056.html