This post is sponsored by Savings.com, but as usual, all opinions are my own.
In light of recent events, hubby and I decided to use our spare time to work on some projects we never get to work on. The first idea was to give a fresh new look to our kitchen, a fresh look inspired by Mohawk.
A Fresh New Look With Mohawk
Our kitchen is divided in two spaces.
When we remodeled it, we couldn't remove the chimney, so the original idea of an open layout was replaced by a two space idea.
Our kitchen project would include:
Painting the walls, along with spackling and minor cosmetic touch ups needed.
Painting the ceiling, along with minor cosmetic touch ups.
Add some color in a form of pillows and a new rug.
Here are some pictures of before:
You probably can't see, but we have marks on walls and ceilings and 10 years of fingers run around them by my growing boy!
We started by taping the edges to avoid getting paint on our beautiful maple cabinets and appliances.
Taping The Edges & Removing Outlet Covers
Applied a coat with a brush to cut the edges first
Edges First With A Brush
Apply Paint With a Roller
Applied a new coat of paint, a lighter green with a primer to make the painting job easier.
Final Result
Nothing better than a fresh coat of paint
Love how the lighter green contrasts against the brown countertops and maple cabinets
Next Step: The Eating Area
Here's The Final Result
We added a new Mohawk Rug
A new rug always brings some colors and contrast with the light walls, Mohawk offers just the perfect mix of beauty and comfort to our kitchen.
I bought the Mohawk Rug at Walmart from a selection so beautiful and with such great prices, it was hard to pick one!
Here's the finished look with pillows, what do you think?
We've added some pillows to the seating area, carrying the rust and blue colors on the Mohawk rug.
Check out more Mohawk Rugs HERE.
You too, can get a Mowhawk rug by entering the #MohawkAtWalmart giveaway, to win a $50 Visa e-gift card!
Giveaway details:
Monday, April 13th at 12:00 AM PT to Friday, May 8th at 11:59 PM PT.
Ten (10) winners will receive a $50 Visa e-gift card from Walmart.
The winners will be chosen through a lottery drawing and notified on Monday, May 11th via the email address they used to enter.
See complete Official Rules for entry instructions, full prize descriptions, restrictions and other important details.
Click below to enter: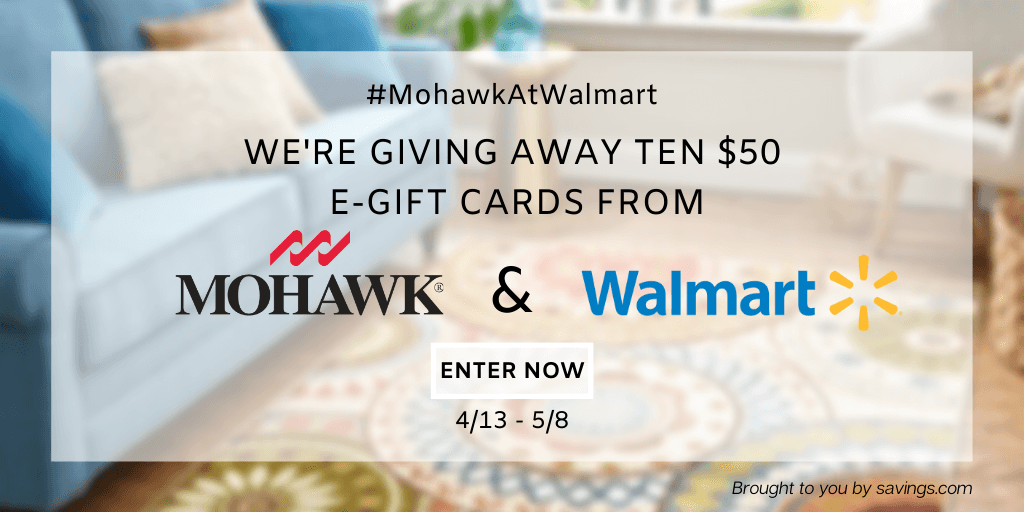 We know our kitchen is the center of our home.
It's the place where our family and friends gather to share food, laughter and love!
We can't wait to share our Spring Remodeling & Decor Upgrade with them soon!
What do you think of our first Spring Project?
As usual, give us a Trendy Shout!
Look for more Home Decor ideas here.